Welcome to Arakanland
Arakanland website is one of the best sites of Arakan
http://s1192.photobucket.com/albums/aa325/Arakanland/?albumview=slideshow
Arakanland is an independent website of Arakan. The purpose of Arakanland is loved to describe of freedom of expression on behalf of all Arakanese people who are long suffering under the Burmese colonial domination.
For over the thousands years the Arakan, which was an independent Kingdom and it was ruled by Arakanese Kings who practiced Buddhist religion.
Unfortunately, Arakan was invaded by Burmese infamous King Maung Wyine, largely known as butcher amoung the Arakanese people, committed crime against humanity to the innocent Arakanese in 1784. Our records point out there was inhumanly killled as genocide over seven millions people of Arakan.
Colonists from England via India and Japan came to Arakan for the act of occupying with different policies. The British ruled in Arakan in 1824 with the colonialism; and in 1942, Arakan was controlled by Japanese fascist.
In 1948, Burmese said that Burma was free from Great Britain. So far, Arakan became one of the colonies of Burma like Mon and Shan. As the result of Burmese colonization, the people of Arakan are fearful, poor, and uneducated.
Nowadays, we, the people of Arakan, are still concermed and denied to the right of self-determination and still subject to colonial and alien domination.
Chronological Timeline of Arakan
Chronological Period

Dhannyawadi Period: BC 3325-AD327
The First Dhannyawadi Period- BC. 3325 - BC1507- Built by King Marayu
The Second Dhannyawadi Period-BC 1507 - 580 Built by King Kanmaraza (Kanrazagree)
The Third Dhannyawadi Period-BC. 580 - AD. 327 Built by King Chandra Suriya
Vesali Period: AD 327-AD 818
Vesali (Wethali) Kyauk Hleiga Period AD. 327 - 818- Built by King Dvan Chandra (Mahataing Chandra)
Lemro Period: AD- 818-1430
Lemro Period- AD. 818 -1430 Built by King Nga Mum Nga Tone (Saw Shwe Luu)

Golden Mrauk-U Period- 1430 -1784
First Golden Mrauk-U Period- AD 1430 - 1531 Built by King Mum Saw Mown
Second Golden Mrauk-U Period- AD 1531 - 1638 Built by King Mum Ba Gree
Third Golden Mrauk-U Period- AD1638 - 1785 Built by King Narapati Gree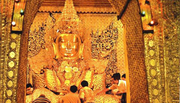 Arakan, The Land of The Great Image
Unforgettable Day of Arakan, which has colonized and annihilated absolutely by Burmese encroachment since December 31, 1784.
Arakan Freedom Movement 2010
Dr. Aye Kyaw (1936-2012)
"Arakan, it's ours. We'll rule it by ourselves"
Dr. Aye Kyaw's National Address
We Lost One, Whose Name Is Dr. Aye Kyaw. We Love Him.
Declaration on the Granting of Independence to Colonial Countries and Peoples
Adopted by General Assembly resolution 1514 (XV) of 14 December 1960
The General Assembly,
Mindful of the determination proclaimed by the peoples of the world in the Charter of the United Nations to reaffirm faith in fundamental human rights, in the dignity and worth of the human person, in the equal rights of men and women and of nations large and small and to promote social progress and better standards of life in larger freedom,
Ashun U Otthama ( January 1880- 9 September 1939)
Ashun U Otthama was born in Akyab (Sitetwe), Arakan. He was the first one leader of Burma independence movement against British colonial rule in Burma. His political defiance policy was non-violence. He spoke "Sir Reginald Craddock Get Out" was instigated to getting the brave all of suffering people of Burma to anti British rule. This effected the cause of to gain Burma independence from Great Britain in 1948.
However, Burmese government and its successors are very unhappy to accept Ven. U Otthama was a person as a national figure of Burma due to he was Arakanese (Rakhine)
Sarataw U Seinda, one of the famous leaders of Arakanese National Independennce Movement during the British colonial rule.
Conscious of the need for the creation of conditions of stability and well-being and peaceful and friendly relations based on respect for the principles of equal rights and self-determination of all peoples, and of universal respect for, and observance of, human rights and fundamental freedoms for all without distinction as to race, sex, language or religion,
Recognizing the passionate yearning for freedom in all dependent peoples and the decisive role of such peoples in the attainment of their independence,
A ware of the increasing conflicts resulting from the denial of or impediments in the way of the freedom of such peoples, which constitute a serious threat to world peace,
Considering the important role of the United Nations in assisting the movement for independence in Trust and Non-Self-Governing Territories,
U U Tha Tun (1917-1990)
"We have to be benefited as a couple thaings, which are poorest and afraid under the Burmese rulers".
August 14 in 1990, Arakanese Guru Sara Gree U U Tha Tun, one of the founders of Arakan League for Democracy, was assassinated in cold blood with the posing food by the Burmese military government during his prison term in Akyab jail.
Recognizing that the peoples of the world ardently desire the end of colonialism in all its manifestations,
Convinced that the continued existence of colonialism prevents the development of international economic co-operation, impedes the social, cultural and economic development of dependent peoples and militates against the United Nations ideal of universal peace,
Affirming that peoples may, for their own ends, freely dispose of their natural wealth and resources without prejudice to any obligations arising out of international economic co-operation, based upon the principle of mutual benefit, and international law,
" I Promised that I would like must be done in politics until I die"
Dr. Saw Mra Aung ( 1917-2009 ) served the President of Arakan League for Democracy and he elected to undertake as President of CRPP (Committee Representing the People's Parliament)
Believing that the process of liberation is irresistible and irreversible and that, in order to avoid serious crises, an end must be put to colonialism and all practices of segregation and discrimination associated therewith,
Welcoming the emergence in recent years of a large number of dependent territories into freedom and independence, and recognizing the increasingly powerful trends towards freedom in such territories which have not yet attained independence,
Convinced that all peoples have an inalienable right to complete freedom, the exercise of their sovereignty and the integrity of their national territory,
Solemnly proclaims the necessity of bringing to a speedy and unconditional end colonialism in all its forms and manifestations;
And to this end Declares that:
1. The subjection of peoples to alien subjugation, domination and exploitation constitutes a denial of fundamental human rights, is contrary to the Charter of the United Nations and is an impediment to the promotion of world peace and co-operation.
2. All peoples have the right to self-determination; by virtue of that right they freely determine their political status and freely pursue their economic, social and cultural development.
3. Inadequacy of political, economic, social or educational preparedness should never serve as a pretext for delaying independence.
4. All armed action or repressive measures of all kinds directed against dependent peoples shall cease in order to enable them to exercise peacefully and freely their right to complete independence, and the integrity of their national territory shall be respected.
5. Immediate steps shall be taken, in Trust and Non-Self-Governing Territories or all other territories which have not yet attained independence, to transfer all powers to the peoples of those territories, without any conditions or reservations, in accordance with their freely expressed will and desire, without any distinction as to race, creed or colour, in order to enable them to enjoy complete independence and freedom.
6. Any attempt aimed at the partial or total disruption of the national unity and the territorial integrity of a country is incompatible with the purposes and principles of the Charter of the United Nations.
7. All States shall observe faithfully and strictly the provisions of the Charter of the United Nations, the Universal Declaration of Human Rights and the present Declaration on the basis of equality, non-interference in the internal affairs of all States, and respect for the sovereign rights of all peoples and their territorial integrity.
Aliens Intrusion into Arakan
Royal Procession in the city of Mrauk-u
Arakan under the colonists rule
1) Burmese Feudal King Anawratha unsuccessfully invaded into Arakan in 1050 AD.
2) Burmese Feudal King Min Khaung successfully invaded into Arakan in 1406 AD.
3) Burmese Feudal King Tabin Shwehtee and Bayin Naung unsuccessfully invaded three times into Arakan in 16th century. They were arrested by Arakanese king Mum Ba Gree in 1546 AD.
4) Burmese Feudal Butcher King Maung Wying successfully occupied and killed the millions of innocent people of Arakn in 1784-1824.
5) British colonist occupied and ruled in Arakan with Divide and Rule Policy in 1824-1942.
6) Japanese Fascist occupied the Arakan in 1942-1945.
7) British colonist reoccupied the Arakan in 1945-1948.
8) Burmese colonists have ruled in Arakan since 1948 with the ideologies and practices of feudalism, colonialism and fascism.
An ancient Arakan
Map Shows Green Colour is Ancient Arakan
Burma Army, led by Senior General Min Aung Hlaing as the Commander in-Chief, commits murder, extermination, torture, rape, political, racial, or religious persecution and other inhumane acts reach the threshold of crimes against humanity in Burma
x
Senior-General Min Aung Hlaing

Their rules of principle and rule of law are the threatening, arresting, torturing, and killing with fascism.