Welcome to Arakanland
Arakanland website is one of the best sites of Arakan
ARAKAN ARMY IS THE DEFENDERS OF OUR FATHERLAND
Arakanland is an independent website of Arakan. The purpose of Arakanland is loved to describe of freedom of expression on behalf of all Arakanese people who are long suffering under the Burmese colonial domination.
For over the thousands years the Arakan, which was an independent Kingdom and it was ruled by Arakanese Kings who practiced Buddhist religion.
Unfortunately, Arakan was invaded by Burmese infamous King Maung Wyine, largely known as butcher amoung the Arakanese people, committed crime against humanity to the innocent Arakanese in 1784-1785. Our records point out there was inhumanly killled as genocide over seven millions people of Arakan.
Colonists from England via India and Japan came to Arakan for the act of occupying with different policies. The British ruled in Arakan in 1824 with the colonialism; and in 1942, Arakan was controlled by Japanese fascist.
In 1948, Burmese said that Burma was free from Great Britain. So far, Arakan became one of the colonies of Burma like Mon and Shan. As the result of Burmese colonization, the people of Arakan are fearful, poor, and uneducated.
Nowadays, we, the people of Arakan, are still concermed and denied to the right of self-determination and still subject to colonial and alien domination.
Chronological Timeline of Arakan
Chronological Period

Dhannyawadi Period: 3325 BC- 327AD
The First Dhannyawadi Period- BC. 3325 - BC1507- Built by King Marayu
The Second Dhannyawadi Period-BC 1507 - 580 Built by King Kanmaraza (Kanrazagree)
The Third Dhannyawadi Period-BC. 580 - AD. 327 Built by King Chandra Suriya
Vesali Period: 327AD- 818 AD
Vesali (Wethali) Kyauk Hleiga Period AD. 327 - 818- Built by King Dvan Chandra (Mahataing Chandra)
Lemro Period: 818 AD-1430 AD
Lemro Period- AD. 818 -1430 Built by King Nga Mum Nga Tone (Saw Shwe Luu)

Golden Mrauk-U Period- 1430 AD-1784 AD
First Golden Mrauk-U Period- AD 1430 - 1531 Built by King Mum Saw Mown
Second Golden Mrauk-U Period- AD 1531 - 1638 Built by King Mum Ba Gree
Third Golden Mrauk-U Period- AD1638 - 1785 Built by King Narapati Gree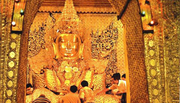 Arakan, The Land of The Great Image
Unforgettable Day of Arakan, which has colonized and annihilated absolutely by Burmese encroachment since on Sunday. January 9, 1785.
Arakan Freedom Movement 2010
Dr. Aye Kyaw (1936-2012)
"Arakan, it's ours. We'll rule it by ourselves"
Dr. Aye Kyaw's National Address
We Lost One, Whose Name Is Dr. Aye Kyaw. We Love Him.
Ashun U Otthama ( January 1880- 9 September 1939)
Ashun U Otthama was born in Akyab (Sitetwe), Arakan. He was the first one leader of Burma independence movement against British colonial rule in Burma. His political defiance policy was non-violence. He spoke "Sir Reginald Craddock Get Out" was instigated to getting the brave all of suffering people of Burma to anti British rule. This effected the cause of to gain Burma independence from Great Britain in 1948.
However, Burmese government and its successors are too unhappy to accept Ven. U Otthama was a person as a national figure of Burma due to he was an Arakanese (Rakhine)
Sarataw U Seinda, one of the famous leaders of Arakanese National Independennce Movement during the British colonial rule.
U U Tha Tun (1917-1990)
"We have to be benefited as the couple thaings, which are poorest and afraid under the Burmese rulers".
August 14 in 1990, Arakanese Guru Sara Gree U U Tha Tun, one of the founders of Arakan League for Democracy, was assassinated in cold blood with the posing food by the Burmese military government during his prison term in Akyab jail.
" I Promised that I would like must be done in politics until I die"
Dr. Saw Mra Aung ( 1917-2009 ) served the President of Arakan League for Democracy and he elected to undertake as President of CRPP (Committee Representing the People's Parliament)
Senior-General Min Aung Hlaing

Burma Army, led by Senior General Min Aung Hlaing as the Commander in-Chief, commits murder, extermination, torture, rape, political, racial, or religious persecution and other inhumane acts reach the threshold of crimes against humanity in Burma
Their rules, including principles of Burmese government and rule of law are threatening, arresting, torturing, and killing to the non-Burman and Burman with fascism.
Aliens Intrusion into Arakan
Royal Procession in the city of Mrauk-u
Arakan under the colonists rule
1) Burmese Feudal King Anawratha unsuccessfully invaded into Arakan in 1050 AD.
2) Burmese Feudal King Min Khaung successfully invaded into Arakan in 1406 AD.
3) Burmese Feudal King Tabin Shwehtee and Bayin Naung unsuccessfully invaded three times into Arakan in 16th century. They were arrested by Arakanese king Mum Ba Gree in 1546 AD.
4) Burmese Feudal Butcher King Maung Wying successfully occupied and killed the millions of innocent people of Arakn in 1784-1824.
5) British colonist occupied and ruled in Arakan with Divide and Rule Policy in 1824-1942.
6) Japanese Fascist occupied the Arakan in 1942-1945.
7) British colonist reoccupied the Arakan in 1945-1948.
8) Burmese colonists have ruled in Arakan since 1948 with the ideologies and practices of feudalism, colonialism and fascism.
An ancient Arakan
Map Shows Green Colour is Ancient Arakan
x